Vision: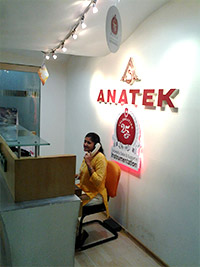 ANATEK was born with a vision. To achieve excellence in service by providing high quality Analytical Instruments and Technical Services.

In the past, before ANATEK was formed, many reputed manufacturers restricted their activities only to the sales of instruments without providing proper service and technical support to their customers. This in turn led to customer dissatisfaction. Thus ANATEK was borne to address such problem.

Ever since its inception in 1990, the company has grown by leaps and bounds.
Philosophy:
ANATEK has always been customer centric. The company started its activities with world known instrument manufacturer, M/s. JASCO International Co. Ltd, Japan and mainly focused on providing personalized and quality service to customers. Quickly the company began to grow and over the years earned a reputation for world class quality and uncomparable service. Today ANATEK has a team of highly dedicated and professionally trained technical staff who offer prompt and efficient service through its all India network. Spares are stocked for any immediate requirement. In the last nearly nineteen years the company has taken a gigantic leap because of its customer-centric philosophy.

ANATEK's efforts have brought Jasco to top layer in India among Instrument suppliers


Directors:













Mr. H. G. Vadhavkar 
Jt.Managing Director


Mr. S. S. Potdar 
Jt.Managing Director
Mr. C. D. Kale
Technical Director

M.Sc. Analytical Chemistry with hands on experience over 30 years in sales & application field, known in the industry for his lectures and seminars on different analytical techniques such as spectroscopy and chromatography.



M. Sc.(electronics) D.M.S. over 30 years of hands on experience in sales / Services of Analytical instruments. Well known in the industry for his regular lectures and seminars on latest developments in Analytical instruments and electronics.



B. Tech. ( I.I.T. Mumbai ), 35 years of experience in the field of servicing of different Analytical Instruments. Well known in the industry for his expertise in Analytical instrumentation across India.